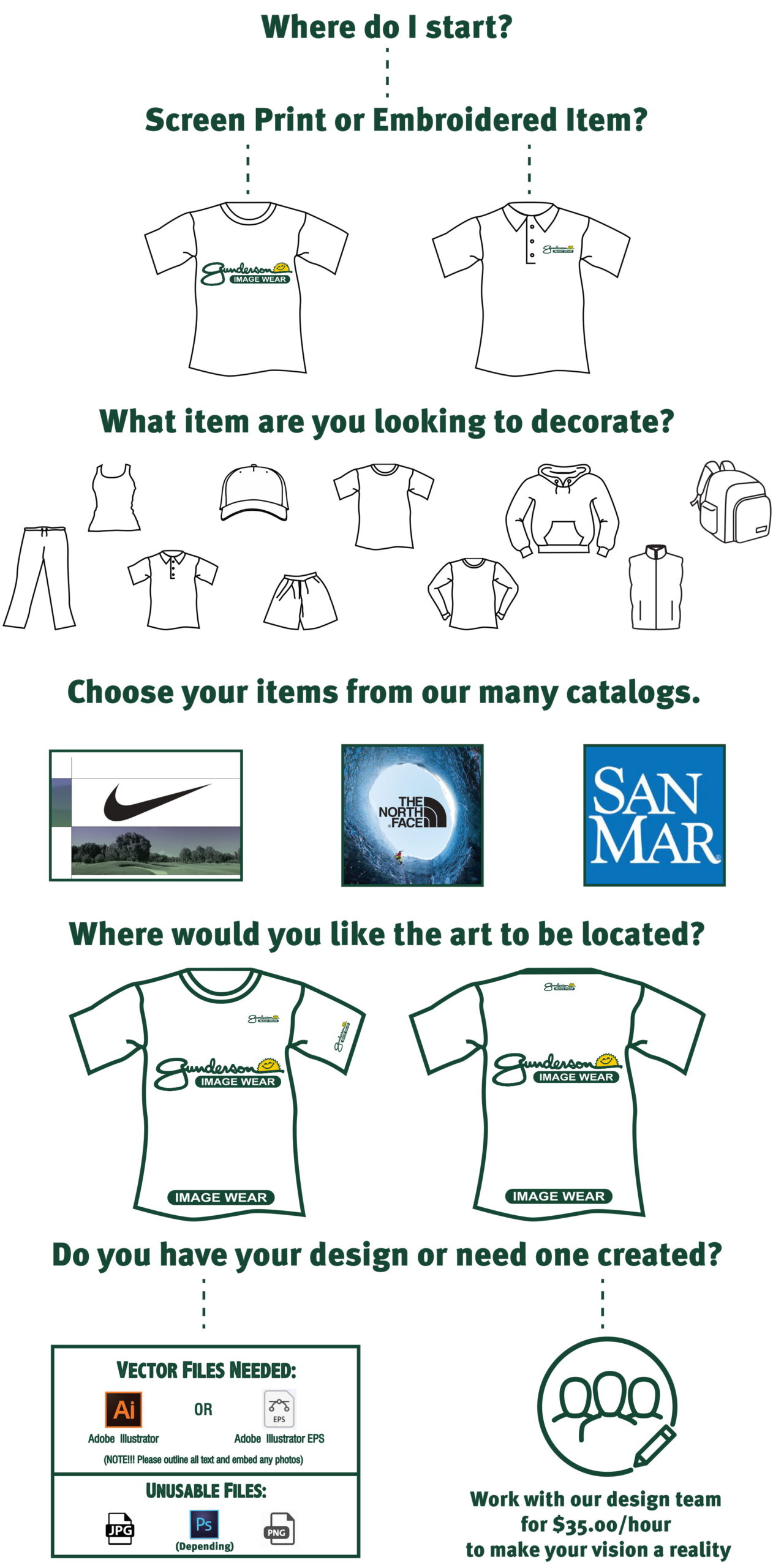 Art Guidelines
Artwork Guidelines to Prepare Your Design for Print by Gunderson Image Wear
ACCEPTABLE FORMATS FOR ELECTRONIC ART:
Adobe Photoshop .psd (only allowed for certain printing processes, please ask if it's acceptable for your order)

Illustrator.ai or eps

Adobe Acrobat.pdf
NON-PREFERRED FORMATS FOR ELECTRONIC ART*:
jpg, gif, bmp, tiff, png files

PowerPoint

Word

Excel

Publisher

WMF

Scans of logo, letterhead or business cards

Page layout files (Quark, PageMaker, InDesign)
*The above formats are not preferred and do not comply with "camera-ready art 
standards". If submitted, formats may be able to be read, but also may incur cleanup 
charges. This is not a comprehensive list; rather a list of the most common 
non-preferred formats.
VECTOR ART IS BEST FOR MOST DESIGNS. PLEASE CONVERT ALL OBJECTS TO CURVES (PATHS OR OUTLINES). If raster elements are part of the artwork: They should be embedded, provided at actual imprint size and from 300 DPI or higher source documents at the original size.
Major artwork changes require an artwork editing fee of $35.00 per hour.
When transferring artwork please include the following:
Subject: Artwork for Organization or Project

Company name & address

Contact person for this art

Phone number for questions on this art

Email for questions on the art

PDF rendering of artwork

Brief description of the art

Size of art
We deliver or send your items to your business or organization.
*Please note all sales are final. No returns or exchanges.
Email to: graphics@gundersongroup.com