We Cater to You!
Company Uniforms, Corporate, Organization, and School/Athletic Apparel.
Embroidery is our specialty. Your logo or custom artwork is digitized (converted into a stitch file for our machines to read) and professionally sewn by our embroidery team onto your clothing or other fabric items.  Take a look at a small sampling of what we can do for you, your business, organization or school.  
Company Uniform Program:
Why should your employees wear uniforms?   Here are a number of benefits
First Impressions – creates a professional and attractive business image

Promotion and Brand Awareness – Let your staff be walking billboards for your company

Employee Protection and Safety – we can provide specialty workwear and clothing to keep your staff safe

Builds Pride and a team environment – Increase team pride and a sense of belonging
Corporate Apparel:
The right corporate apparel will:  
Promote a professional and attractive business image.  

Build pride and a team atmosphere.  

Enhance brand awareness.
Organization Apparel:
Create awareness or a lasting symbol of passion for a cause!   There are many reasons to design logo apparel.
Camp

Team Events

Marathons/Races

Family Reunions

Fundraisers

For a Cause

Or, just for fun!
School/Athletic Apparel:
Provide confidence and teamwork with logo apparel/uniforms for your school or sporting event!
Baseball

Basketball

Cheer

Football

Soccer

Swimming

Tennis

Track

Wrestling

Adult softball/kickball teams
Here's How To Start:
Choose your items

Shirts

Pants

Hats

Bags

Jackets

Select your design

Send us your logo/design   

Or work with our graphic designer to choose or 

create custom artwork

Please send all art to graphics@gundersongroup.com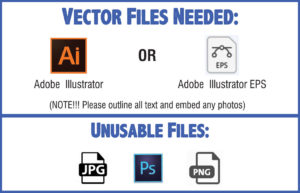 We deliver or ship your items to your business or organization.
*Please note all sales are final. No returns or exchanges.