SCROLL DOWN FOR STORE LOCATIONS/HOURS
Gunderson Cleaners helps you look your very best with dry cleaning services and more including shirt laundering, wedding dress cleaning and preservation, tailoring and alterations, leather cleaning, shoe cleaning and repairs, feather pillow cleaning and reticking (we cut open the pillows, clean and sanitize the feathers/down, put into new ticking and can add feathers if needed) all from our store locations or right to your business or home through our free pickup and delivery service.
Gunderson Cleaners is here for you during this essential time and committed to following safety guidelines for all of our services. We are committed to the safety of our Team and Customers! We want to thank all of our customers for your support of our local family – owned business!
For the safety of our Team and Customers, we offer FREE Pick Up & Delivery Service!
Sign Up with Customer Connect on the right side of the page or download our Gunderson Cleaners App on the App Store or Google Play!
Sign Up Today for FREE Pick-Up & Delivery
You can also set up to have current in store items delivered to your door!
Store Locations & Hours
810 W Fulton St  Waupaca
Inside Piggly Wiggly
715-258-3161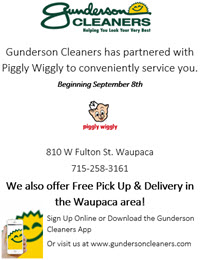 3910 Schofield Ave, Suite 1, Weston WI 54476
OPEN LOBBY Mon – Fri 10:00am to 5:30pm
715-359-8710
1440 S Oneida St. Appleton WI 54915
OPEN LOBBY & Limited Fitting Hours Available
Mon-Fri 10:00am to 5:30pm
920-730-2215
1055 W Winneconne. Neenah WI 54956
OPEN LOBBY Mon – Fri 10:00am to 5:30pm & Sat 10am to 2pm
920-727-4005
2828 Richmond St. Appleton WI 54911
OPEN LOBBY – FITTING HOURS AVAILABLE AT ONEIDA ST.
Mon – Fri 10:00am to 5:30pm & Sat 10am to 2pm
920-730-2203
200 W Wisconsin Ave. Appleton WI 54911
OPEN LOBBY Mon- Fri 10:00am – 5:30pm
920-730-3300
3423 Main St. Stevens Point WI 54481
OPEN LOBBY Mon – Fri 7:30am to 5:30pm & Sat 10am to 2pm
715-342-1930
2111 Stewart Ave. Ste 700. Wausau WI 54401
OPEN LOBBY Mon – Fri 7:30am to 5:30pm & Sat 10am to 2pm
715-298-2258
N162 Eisenhower. Appleton WI 54911
OPEN LOBBY Mon – Fri 10:00am to 5:30pm & Sat 10am to 2pm
920-731-5075