01/20/2022
To our valued Customer,
Gunderson Cleaners has made the difficult decision to close our Greenville store location on February 11th, 2022.
It has been our pleasure to service you at our Greenville store location. We are here for you and would like to have the opportunity continuing to serve you with smiles at our nearby store locations or through FREE Pick up & Delivery Service.
Free Pick Up & Delivery Service Sign up is easy!
Sign Up with Customer Connect or download our Gunderson Cleaners App on the App Store or Google Play!
We have also have the following locations nearby for your convenience.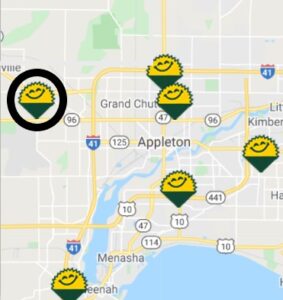 1055 W Winneconne. Neenah WI 54956
Mon – Fri 7:30am to 5:30pm & Sat 10am to 2pm
Drive Thru
2828 Richmond St. Appleton WI 54911
Mon – Fri 10:00am to 5:30pm & Sat 10am to 2pm
Drive Thru
200 W Wisconsin Ave. Appleton WI 54911
Mon – Fri 10:00am – 5:30pm
1440 S Oneida St. Appleton WI 54915
Mon – Fri 10:00 to 5:30pm
Drive Thru & Alterations
N162 Eisenhower. Appleton WI 54911
Mon – Fri 10:00am to 5:30pm & Sat 10am to 2pm
Drive Thru
The Gunderson Cleaners team thank you for your business and understanding. If you have inventory, we will contact you. Please call 920-757-9727 or email us at contact@gundersoncleaners.com
Sincerely,
Gunderson Cleaners